…
University of the Arts, Philadelphia, Summer Music Studies 2022
June 27–July 1, 8:30am–4:30pm
Introduction to Dalcroze, 3.0 Credits
This course is an introduction to the philosophy, principles, and practice of Delcroze education. Dalcroze is a process for teaching musicianship to students of any age or level of experience using three main approaches: eurhythmics (purposeful, creative rhythmic movement), solfége, and improvisation. Participants will learn and practice a selection of Dalcroze strategies and techniques and apply them to specific instructional settings.
Learn more about the course, tuition and registration here.
…
Dalcroze Eurhythmics Workshops and Courses
Taught by Dawn Pratson
In January, 2022, Dawn was a guest teacher of Dalcroze Eurhythmics at the Waldorf School of Philadelphia through The Fidget.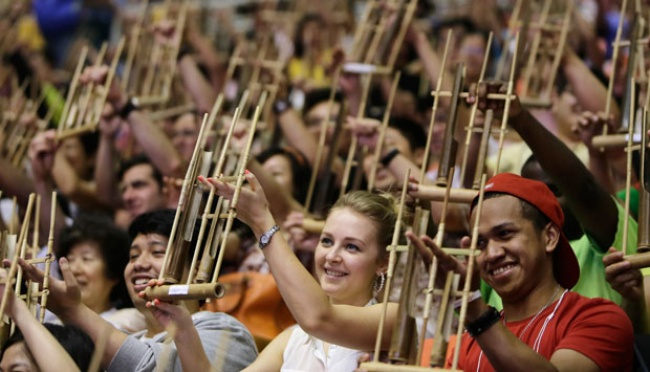 …
For the 2021-2022 Dawn is teaching Dalcroze Musicianship lessons online for the National Children's Chorus.
…
FACTS is a K-8 school which addresses the needs of immigrant students and their families and teaches folk life and folk art as tools to build cultural competency and social justice. During her tenure there, she initiated and was awarded $150,000 Presser Grant to build a music program from scratch, including full Orff-Schulwerk Orchestrarium and Orff Levels training. She also played an essential role in developing "Ritual Calendar" annual events which celebrated and highlighted folk arts and social justice, integrating music resources drawn from the cultures of largely immigrant students and their families.
…
5th International Conference of Dalcroze Studies (ICDS5)
Dawn was a presenter in two panels at the recent, virtual, 5th International Conference of Dalcroze Studies (ICDS5), October 21-22, 2021:
Dawn chaired a panel presentation called "Taking On Diversity, Equity And Inclusion: A Collaborative Effort"
Dawn was a participant in another panel called "Expanding Horizons, Growing Community And Developing Balanced Learners: Applying Dalcroze Principles To Build Our Communities More Deeply."
…
February 1-8, 2020: guest teaching artist at Rocky Mountain chapter of the Dalcroze Society of America, at the Dalcroze School of the Rockies, and at Integral Steps, Denver, Colorado.
January 17-19, 2020: presenter and performer at the 2020 National Conference of the Dalcroze Society, Miami, FL.
October 3, 2019, NYC Workshop: "Organic Rhythm: The Music of Silence," Diller-Quaile School, 24 East 95th St., New York City
July 29 and August 1, 2019, International Congress of Dalcroze Studies, Katowice, Poland. Paper and workshop presentation: "Harmony in Space and Sound: Exploring Laban's Space Harmony and its Relationship to Music"
November 3, 2018, Dalcroze Philadelphia workshop, Saturday, Temple University Pearson Hall, 1800 N. Broad Street, Dance Studio 224, Philadelphia, PA
July 2-13, 2018 – Faculty, Longy Summer Dalcroze Institute, Cambridge, MA
June 25-29, 2018 – UARTS Summer Music Studies Course: Introduction to Dalcroze Eurhythmics
April 14, 2018 – Dalcroze Eurhythmics workshop, co-taught with Lisa Parker, Temple University
March to May, 2018 – teaching an inter-generational glass in the Indonesian bamboo instrument called angklung. DAYA Center, Philadelphia
Other freelance Dalcroze work
Dawn has presented workshops locally, nationally, and internationally, including at Commonwealth Youth Choirs, Philadelphia, Pa.; Germantown Friends School, Philadelphia, Pa.; Dalcroze Society of America Conferences; Pennsylvania Ballet; and CelloSpeak, Bryn Mawr, Pa.
…
About Dalcroze Eurhythmics
Dalcroze Eurythmics is the teaching and learning of music through movement. Named after its Swiss founder, Emile Jaques-Dalcroze (1865–1950), it is a philosophy and practice of music education that sits aside Orff-Schulwerk, Kodaly, and Suzuki methods. It is worth noting that Dalcroze had a significant influence upon the more widely known Orff-Schulwerk approach.
In Dalcroze education, one might think of our body as our primary instrument through which we step, gesture, sing and vocalize, using natural movement, as well as be still. Usually, we do these things to the sounds of live and recorded music, but making music with our bodies can also be done in silence.
Dalcroze education occurs at the beginner through advanced level, with infants, children, adults and older adults and can be oriented toward music appreciation, personal growth, as a tool for creative stimulation for composition and choreography or as a rigorous music training. Through the practice of Eurhythmics, we deepen our musicality which then is expressed on our instrument, in our composing or arranging, in our teaching or choreography. It was first developed by Emile Jaques-Dalcroze to help students struggling with rhythmic acuity and musical expression while working at the Geneva Conservatory of Music in the late 1800's and early 1900's.
Just after she relocated from the Boston area to Philadelphia in 2003, Dawn completed her Dalcroze Eurhythmics Certificate and License.
Dawn earned her Dalcroze license in 2004 and taught in the summer programs at the University of The Arts, in Philadelphia, and the Longy School of Music of Bard College, in Cambridge, Mass.
She taught Children's Music Workshop at Settlement Music School, and then became the founding music specialist at the Folk Arts-Cultural Treasures Charter School ("FACTS") where she taught general music and choir for ten years, 2005 – 2015.
She established the Philadelphia chapter of the Dalcroze Society of America, which was graciously hosted by Temple University's Department of Music Education and Music Therapy from 2017 – 2019. On hold since the 2020 pandemic, the chapter holds workshops during the school year, welcoming performing artists and educators, arts therapists, composers, choreographers and anyone interested in rhythm and the music-movement relationship.
In addition, Dawn teaches Dalcroze classes in the community. Contact her for more details.
…